Arresting Tief's government
10. October 1944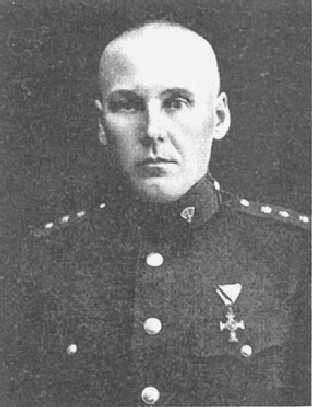 In October 1944, the soviet intelligence agencies began to eagerly purse the members of Tief's government. On October 10, Otto Tief was arrested in his homestead in Harjumaa.
In the following months, all members of, and other people involved with the Government of the Republic of Estonia were caught. Their trials were considered so important that they were held in Moscow.
All members of the government were sentenced for different lengths of imprisonment in prison camps. As by the verdict, the Commander-in-Chief, Maide (see image), was shot in Butorka prison in Moscow.
The Prosecutor General, Oskar Gustavson, that had been arrested, committed suicide byjumping out of the window of an interrogation room on Pagari street.
Most of the members of the government died in prison camps in Siberia, Tief, himself, managed to survive until Stalin's death and was released from prison, but was forced to live in Soviet Socialist Republic of Latvia, in Heinaste city (Ainaži). Otto Tief died in 1976, and was buried into the soil of his homeland in Pärnamäe cemetery, in Tallinn.
The attempt to restore the Republic of Estonia, undertaken by the nationalists forces in September 1944, was a lost cause, but it insured, morally, the national continuity of Estonia. It definitely gave the nationalist circles, both domestic and foreign, strength to continue the fight for free Estonia.
Source: Eesti ajalugu. VI, Vabadussõjast taasiseseisvumiseni. Tartu: Ilmamaa, 2005
Mart Laar. September 1944: Otto Tiefi valitsus. Tallinn: Varrak, 2007
Image source: http://www.kool.ee/failid/maide.jpg